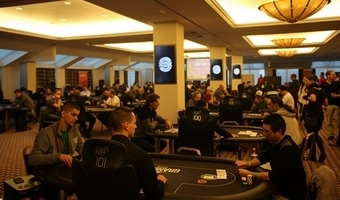 The field of 135 entries and a €117,855 prize pool – the Tonybet OFC Poker World Championship Main Event broke the record for the most entries to a live Open Face Chinese tournament twice. The day before the Tonybet World Championship saw its High Roller event become the richest OFC tournament with a total prize pool of €218,500.
"We had high expectations for the event, but even we were surprised by the actual numbers," a Tonybet spokesperson said in an interview. "We've surpassed the previous record twice and proved that Open Face Chinese poker is underestimated by the biggest poker tours. There's a huge potential for the game and we believe it's only going to grow."
The record-breaking field also featured some big poker names including the two-time WSOP bracelet winners Konstantin Puchkov and George Danzer, the polish poker icon Marcin Horecki, recent WPT Prague winner Alex Goulder, as well as the Russian High Roller Alexander Kostritsyn, Michael "michaelsc" Schwartz, and the OFC High Roller champion Jennifer Shahade.
The field of 135 players outgrew the previous record set at the $230 MasterMinds OFC event which took place last March in Sao Paulo drawing 64 entries. "Beating two records in two nights is not something every poker event can brag about, so we're really happy about putting OFC under such a bright spotlight. I mean we beat such big names as WSOP and EPT in the first attempt, so the only way to go now is up. We set the bar really high both for ourselves and for all the future live OFC poker events," the site spokesperson said.
With a total of €117,855 in the prize pool, the winner of the Main Event will take home €35,000 along with the Champion's belt.
After Day1 of the Main Event, there are 14 players left in the running for the Championship title. Day 2 of the tournament will start at 3pm (UTC+1) featuring a live stream available on the Tonybet Poker Live blog.
Here are the stacks of the remaining 14 players:
| | | |
| --- | --- | --- |
| Name | Chips | Nationality |
| Nikita Nikolaev | 502,000 | Russia |
| Mikal Blomlie | 439,000 | Norway |
| Maxim Panyak | 418,000 | Russia |
| Oleg Udovenko | 361,000 | Ukraine |
| Amir Mozafforian | 338,000 | Germany |
| Jan Hendrik Tapken | 334,000 | Germany |
| Alexander Lakhov | 332,000 | Russia |
| Jurgen Hellen | 331,000 | Germany |
| Igor Belakovskiy | 248,000 | Ukraine |
| Gary Stone | 210,000 | Great Britain |
| Mikalai Davidovich | 201,000 | Belarus |
| Iakov Onuchin | 185,000 | Russia |
| Andrii Nodieliaev | 169,000 | Ukraine |
| Ron Oomen | 13,000 | Netherlands |