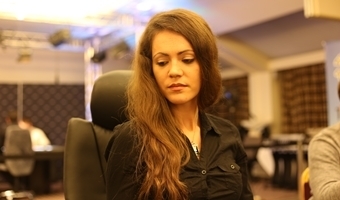 As per request from our live stream audience, here are the complete tournament rules:
General Rules
Levels
Level duration is 45 minutes.
Point level adjustment
Point levels can be adjusted at tournament director's discretion at any time.
Late registration
Late registration, Rebuys and Re-entries will be available for 6 levels.
Time bank
A twenty-second clock can be called to speed up players actions at the tournament director's discretion.
Players per table
Tables will be played two and three handed.
Absent players
When a player is absent, their cards are dealt from bottom to top from left to right until all spaces are filled. On the three-card draw, the first two cards will be placed automatically and the third card will be discarded. All scores and royalties need to be paid.
Fantasyland
Fantasyland and button position
During fantasyland, the dealer button stays in the same position.
Fantasyland repeating
Fantasyland is repeated by either Quads or better in bottom or middle row or Trips in the top row. Players can repeat fantasyland unlimited times.
Fantasyland and reseating
There will be no reseating during fantasyland.
Fantasyland at table break
Fantasyland is cancelled when all players at the table are all in.
Level changes and fantasyland
Fantasyland during the last hand of the level should firstly completely finish before moving to the next level. Fantasyland is counted as one hand for level changes. This means the level does not change until all fantasyland or continuance are finished (in case opponents reach fantasyland this rule still applies).
Hand for hand play and fantasyland
During hand for hand play, fantasyland counts as a SEPARATE hand for elimination purpose. However, the point level will remain the same until all fantasyland has ended.
Elimination rules
Single table elimination
Players' stacks in the elimination hands determine the rank of the eliminated players. The higher starting stack will end the tournament with better rank.
Multi-table eliminations
Players eliminated on separate tables during hand for hand play will finish the tournament with the same rank and split their prize money equally. During regular play, the timing of the end of the hand determines the order of elimination.
Points and scoring
Paying Points and Royalties
All points and royalties will be paid in position order, starting with the player in 1st position (left of the dealer button) in the following order: player 1 vs player 2, player 1 vs player 3, player 2 vs player 3.
Each individual player's transaction will be completed in full before moving on to the next transaction. Player stacks after each transaction are updated for the start of each subsequent transaction (see examples).
Win cap
In any individual transaction a player cannot win or lose more than their stack before that transaction.
All In
A player is eliminated from the event when they cannot pay the full points owed to an individual player in turn. There will be NO subsequent transactions for the all in player.
Examples
Player 1 (P1) starts with 10 points
Player 2 (P2) starts with 30 points
Player 3 (P3) starts with 50 points
Win cap and all in
Transaction 1: P1 vs P2 {score +20}-->
P1 wins 10 pt. from P2,, not 20 pt. (win cap)-->updated stacks: P1 (20pt) and P2 (20pt)
Transaction 2: P1 vs P3 {score +25}-->
P1 wins 20 pt. from P3, not 25 pt. (win cap)-->updated stacks: P1 (40pt) and P3 (30pt)
Transaction 3: P2 vs P3 {score -25}-->
P2 loses 20 pt. to P3, not 25 pt. due to All in-->updated stacks: P2 (0pt) and P3 (50pt)
All in
Transaction 1: P1 vs P2 {score -20}-->
P1 loses 10 pt. to P2 and is all in -->updated stacks: P1 (0pt) and P2 (40pt)
Transaction 2: P1 vs P3 {score -25}-->
P1 is all in in previous transaction so NO further transactions--> P3 wins 0
Transaction 3: P2 vs P3 {score -25}-->
P2 loses 25 pt. to P3-->updated stacks: P2 (15pt) and P3 (65pt